Our projects at Alicante
StanGher
Guest House
@ Alicante, Spain
Beautiful Guest House in one of the most beautiful resort cities
Our lofts have a comfortable and pleasant atmosphere in a stylish complex with architecture in the spirit of the classic lofts of New York in the middle of the last century of English art blocks.
Learn more
Alicante seaside town on the West part of Spain
The city is considered the capital of the eastern Spanish coast and the main resort of the Costa Blanca. Alicante is a place where you can find almost everything that a tourist needs: the sea and snow-white sandy beaches, rich history and attractions (from the medieval fortress to the classic Mediterranean old town with narrow cobbled streets). It is a dynamic and modern city, which is one of the best holiday destinations in Spain.
The airport is located 11 km south of Alicante. From the airport to the city there is a bus every 20 minutes. The main railway station is located in the city center. All major Spanish cities, such as Madrid, Seville, Barcelona, ​​have a daily train service to Alicante. There is a high-speed train from Madrid and Valencia. Average journey time from Alicante to Madrid is 3 hours and 30 minutes.
Shopping, national cuisine and history
At the time of the ancient Greeks, a fishing harbor was located on the site of modern Alicante. In the 12th century, Arabs captured the city and named it Al-Lacant, which was transformed into a modern name. In 1246, Alicante became part of the Castilian Kingdom, then the city became part of the Kingdom of Valencia. By the end of the 15th century, Alicante became one of the largest trading ports in Spain. Today, the province of Alicante is the second largest region in the Valencian autonomous community, and the city itself is one of the largest and most popular resorts in Spain.
Alicante has something to offer in terms of shopping. There are many shops on the streets between La Rambla and Federica Soto do de Alfonso El Sabio. El Barrio, the old quarter of Alicante, also has many retail outlets.
Big malls:
El Corte Inglés;
Centro Comercial Plaza Mar 2;
Centrol Comercial Panoramis;
Centrol Comercial Gran Via;
Centrol Comercial Puerta de Alicante.
The region is rich with seafood dishes, the main national dishes are tapas and paella. Alicante is also known for its nightlife. In the summer, many parties take place on the beaches of Postiguet and San Juan.
Interesting places in Alicante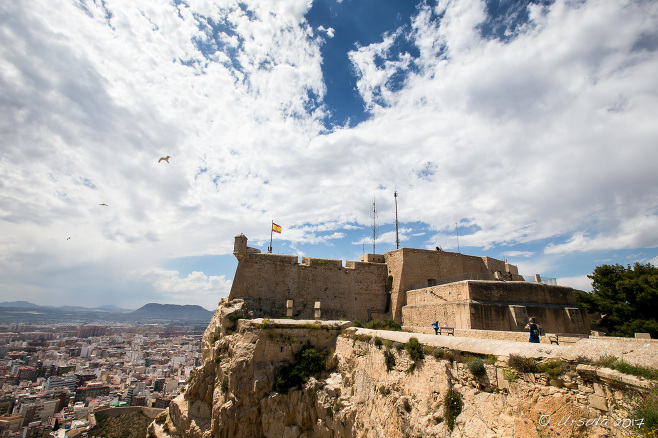 Santa Barbara Castle
One of the largest medieval castles of Spain and the most famous landmarks of Alicante. Located at the top of Benacantil mountain at an altitude of 166 meters with a beautiful view of the city and the bay.
Casco Antiguo
A charming area in the old town, more like a Spanish village. Locals are proud of their houses, decorate balconies and rapids with fresh flowers and paint on shutters.
Explanada de Espana
Elegant marble embarkment of Alicante. It begins in the old town and continues to the pier.